5th September 2018
With the recent increase in the Bank of England's base rate, it might seem like a bad time to buy property. Maslen Estate Agents is here to change your mind - and show you why now is the best time to borrow money for property.
The Bank of England recently increased the base rate from 0.5% to 0.75%. The base rate is the official borrowing rate. It's what the Bank of England charges other banks and lenders when they borrow money. It influences what borrowers pay and what savers earn.
The Bank of England Governor Mark Carney has said "rate rises are expected to be limited but to gradually rise". This isn't something to worry about - although they've increased, base rates are still at a record low. Back in the 1980's, the base rate was as high as 15%! This graph shows how the base rate has dropped, and how low it has remained in the last 5 years.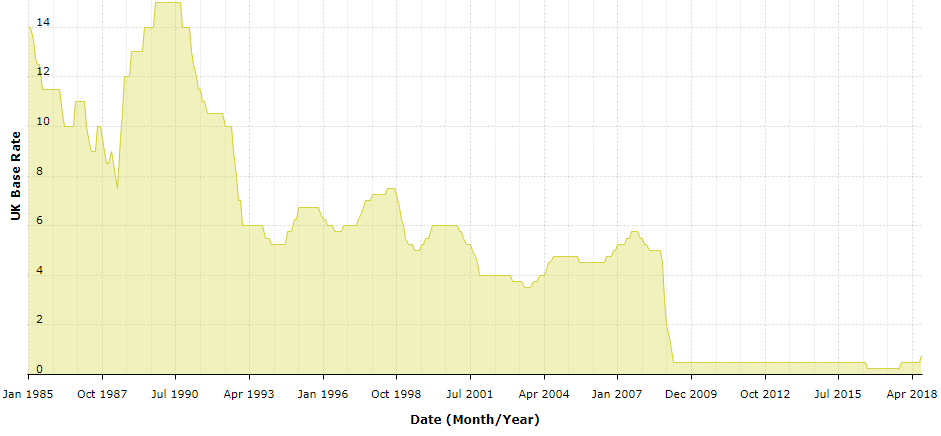 Graph credit: https://www.propertyinvestmentproject.co.uk/property-statistics/uk-interest-rate-history-graph/
These low interest rates are great news for borrowers. Although this slight increase does mean mortgages will edge up, rates are still at an all time low.
Mortgage lenders are continuing to slice the rates on deals offered to borrowers. New deals are being launched for borrowers looking to buy with a 5% deposit. Moneyfacts data revealed that the average two-year fixed rate on a 95% mortgage is now just 3.95% - compared to the 4.18% average last year.
The best mortgage deals are attainable with at least a 15% deposit. Depending on the property price, a 15% deposit could be a large sum of money that is unattainable for many. However, with a 5 - 10% deposit, borrowers can still find a lot of choice and some good rates available too.
Another promising trend for those wanting to borrow money for property is that mortgage approval rates have increased. In our Market Trends, we reported that mortgage approvals increased by 6.4% from April to May. This is a great sign for first-time buyers.
If you'd like to find out more about borrowing money and purchasing property, speak to the experts at Maslen Estate Agents.