16th March 2022
'Sold' Shouldn't Mean Your Estate Agent's Work Is Done!
When you accept an offer on your home and the 'For Sale' sign is changed to 'Sold' it is a fantastic feeling. It means that you can really start thinking about the future and make firm plans for moving forward... or at least it should do!
Unfortunately some sellers find that things don't go smoothly and months down the line can be faced with going back on the market to try and sell their homes all over again. This can mean missing out on the place you wanted to move to and often make somewhere look 'stale' to new potential buyers who might think there is a problem with the property itself.
In reality, the problem is actually often down to the choice of estate agent...
Our work is done?

One of the things that separates a good estate agent from the bad is the effect that 'Sold' sign can have.
Big chains, online agencies and less scrupulous businesses can often take the attitude that their work is done when a sale is agreed. However, we think differently...

Here at Maslen we know that making sure a sale goes all the way through to completion is a key element of the services we provide and something that our clients should expect. We're incredibly proud that this is regularly highlighted and praised in our 5star Google reviews such as this one: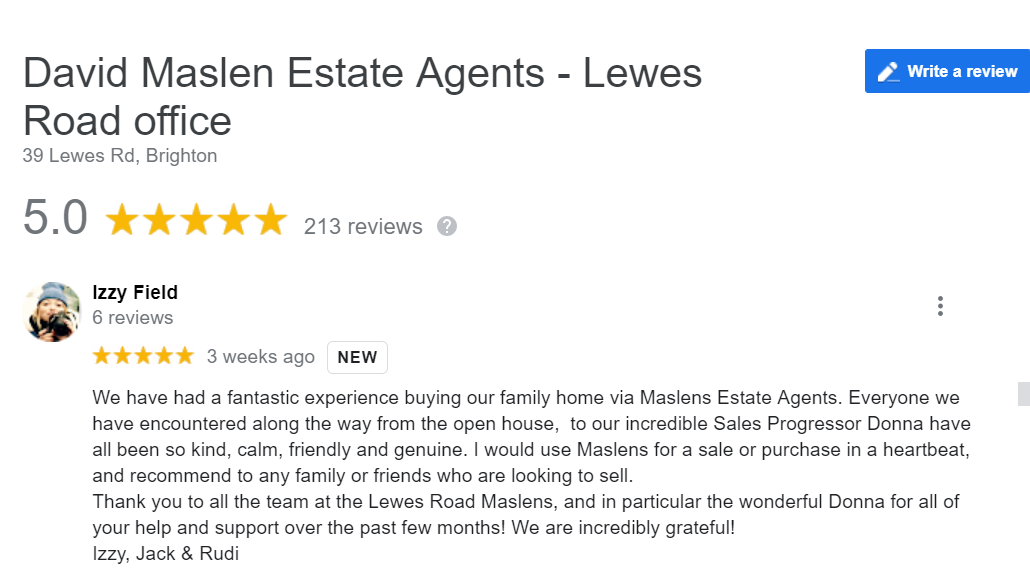 When that 'Sold' sign goes up we have done a lot of hard work and spent our own time and money on marketing your property, but of course we don't get paid until keys change hands!

So it is in the interests of everyone that the deal goes through and any problems that crop up are sorted out as quickly as possible.

Sales Progression

The work that takes place after a sale is agreed is called 'sales progression' and it is as important as any other aspect of our business.
Of course, a good estate agent will minimise the risk of a sale falling through by advising sellers which offers to accept. The 'due diligence' we do at Maslen will weed out buyers who might not be serious or may not have the funds to make the purchase.

We also advise on how complicated a property chain might be and whether or not a buyer will be ready to move to schedule.

That can all help make the decision of accepting an offer easier, but there are often other things that can crop up which need the benefit of our experience.

Problem Solving

Some problems might be things such as a survey revealing an issue that needs to be addressed and which can be solved simply by negotiation. Other delays which can make things go awry might come from a slow solicitor or a local government search.
These are all issues that can seem like big problems to someone who is eager to get moving but for us they are everyday work matters that usually have simple solutions.

Communication is key, and having a dedicated Sales Progression team means that dealing with other estates agents in a chain, solicitors and surveyors is a priority rather than hidden away on someone's To Do List. Keeping on top of everything and making sure that everyone involved has all the legal documentation and information they need when they need it, is their sole focus. They're free from distractions such as going out on viewings or valuing other properties – their raison d'être is to make sure your move goes through smoothly and they work tirelessly behind the scenes to enable that to happen.

Ultimately these are things that you need to think about when choosing which estate agent to entrust the sale of your home with. So if you are looking to sell in and around Fiveways, Lewes Road, Woodingdean or any other area of Brighton & Hove, get in touch and find out how we only stop working for you when you actually make your move!